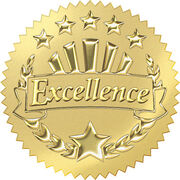 Hey users! So, we've all seen
Contributor of the Month
, where the best user is crowned every month. But this is where the best individual users are crowned. Read on!
T - Man has been editing the pages ever since he joined. There is a long list of pages that he has improved and made better. Well done T - Man!
Best blog writer - TARDIS2010
T - Man is great at writing blogs. He writes some of the best blogs on the wiki, including a series about motorsport. Well done T - Man!
Best admin - TARDIS2010
T - Man uses his admin powers well. He improves the wiki and blocks unwanted editors. He has kept order on the wiki and has helped it grow. Well done T - Man!
Best commenter - *Lady Meow* (Larkflight)
Larkie has at gift at comments. She gives tips and help in her comments, which can be used to make the pages better. Well done Larkie!
Best talker - TARDIS2010
T - Man leaves the most messages on talk pages, helping to give the wiki a warm and friendly atmosphere. Well done T - Man!
The LOL User - Position vacant
No user owns this title. Be the funniest person on the wiki and it could be you!
The Music Corner User - *LadyMeow*
Larkie contributes the most to Music Corner, and has made it her own. Well done Larkie!
Ad blocker interference detected!
Wikia is a free-to-use site that makes money from advertising. We have a modified experience for viewers using ad blockers

Wikia is not accessible if you've made further modifications. Remove the custom ad blocker rule(s) and the page will load as expected.