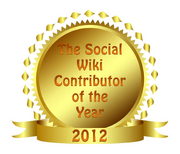 I may have left this a bit late, but this is one of the wiki's main awards! Throughout all of the year, some outstanding users have become contributor of the month. Now, I must decide the overall best contributor for the whole year, and, for the second year running, the award will be shared by two people. Well done TARDIS2010 and Rosecloud!
TARDIS2010 ( T - Man) - For all of the time that this wiki has existed, T - Man has helped me out. He has helped me to grow the wiki, and was joint COTY with Speedysnitch last year. This year, T - Man has again made many edits and has helped the community to grow. He deserves this award. Well done T - Man!
Talk to T - Man.
Rosecloud (Firey) - Firey has been an outstanding user since joining the wiki, creating pages and playing a good role in the Jackie Wiki community. Along with T - Man and Speedysnitch, Firey has been a key user in the development of this wiki. This year, she has helped the wiki to expand on this stage last year. She, like T - Man, deserves this award. Well done Firey!
Talk to Firey.